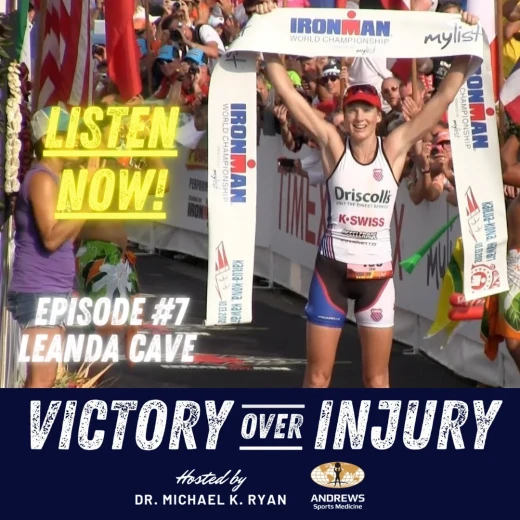 Andrews Sports Medicine's Victory Over Injury Podcast Series explores the depths and peels back the layers of the often overlooked and largely unknown side of sports medicine: INJURY - digging into recovery and the mindset it takes to achieve victory over injury.
In episode #7 of Victory Over Injury presented by Andrews Sports Medicine, Dr. Michael K. Ryan takes a special deep dive into the life, career and experience of Leanda Cave.
Leanda began competing in triathlons in 1993 as a 14 year old. From that early age, Leanda found pleasure and strength in pushing herself to the limit in a multidisciplinary sport, and form that point experienced a progressively ascendant trajectory in her career, eventually landing her as one of the greatest athletes to ever compete in the sport of triathlon.
Leanda won the European U23 Championship in 2001 and from the moment, she continued to amass accolades and improve as a triathlete. She won the Olympic distance world title in 2002, and eventually progressed into longer distance Ironman races. Her first Ironman victory came in 2012 in Arizona. Only a few months after that, she capped off an incredible racing year by winning Ironman 70.3 World Championship and the Ironman World Championship only 5 weeks apart, becoming only the second human and first woman to complete "The Double" by winning both world championships in the same year.
She continued to accumulate wins after this and completed her racing career in 2018, solidifying herself as a future hall of fame triathlete.
Be sure to follow "Victory Over Injury" wherever you listen to podcasts.
A special thank you to our producer, Ed Hill, and our intern, James Harris, UAB School of Medicine (Class of 2023) for helping make this podcast series possible.
Episode Notes
00:02:51 – Growing up in Australia
00:07:51 – Triathlons
00:09:40 – Endurance sports
00:15:00 – Difference in Olympic & IRONMAN-style racing
00:19:15 – Tactical approach to triathlons
00:22:22 – Nutrition in racing
00:26:20 – Early successes as a triathlete
00:30:04 – Preparing for IRONMAN
00:31:15 – Realizing triathlon racing was her sport
00:33:08 – Monumental victories in 2012
00:48:42 – Low point in Leanda's career
00:57:00 – Overcoming injuries
01:02:40 – Experiences with orthopedic surgeons & sports medicine physicians
01:09:47 – Retirement & emotions during Leanda's career
01:15:00 – Life after competition