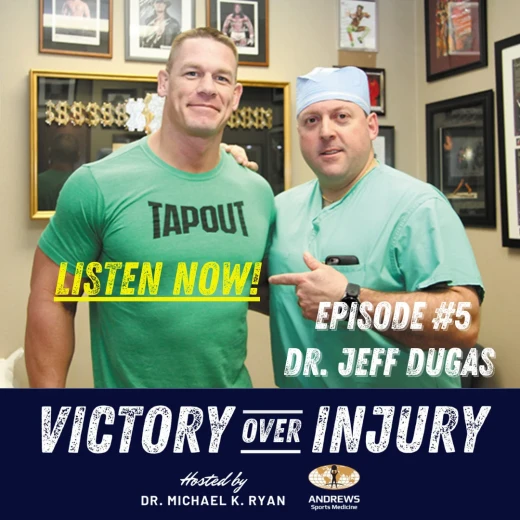 Andrews Sports Medicine's Victory Over Injury Podcast Series explores the depths and peels back the layers of the often overlooked and largely unknown side of sports medicine: INJURY - digging into recovery and the mindset it takes to achieve victory over injury.
In episode #5 of Victory Over Injury presented by Andrews Sports Medicine, Dr. Michael K. Ryan takes a special deep dive into the life, career and experience of Dr. Jeff Dugas, co-founder and managing partner of Andrews Sports Medicine. Dr. Dugas is a distinguished sports medicine surgeon, specializing in orthopaedic surgery of the knee, shoulder, and elbow. He has operated on all types of athletes at the highest levels of elite, Olympic and professional competition.
Dr. Dugas is the long-time team physician for Troy University Athletics, and numerous local high schools, associate team physician for the Birmingham Barons (Chicago White Sox AA affiliate), medical director for USA Cheer, associate medical director and surgeon for WWE, serves on the board of trustees for the American Baseball Foundation and American Sports Medicine Institute, and is the fellowship director for the ASMI Orthopaedic Surgery Sports Medicine Fellowship. He is responsible for training sports medicine surgeons of the highest caliber.
Dr. Dugas is the author of more than 75 peer-reviewed publications and numerous book chapters, and has presented countless times at national meetings. His experience on the field, in the operating room and with research fueled his innovative spirit, and Dr. Dugas has pioneered the UCL Repair, an alternative to the Tommy John surgery with more rapid return to play, which now has more than 5 years of great results. Finally, with all of his extra time, Dr. Dugas satiated his entrepreneurial craving by starting a local distillery, crafting fine whiskey liquors and beer under the name Dread River.
Be sure to follow "Victory Over Injury" wherever you listen to podcasts.
A special thank you to our producer, Ed Hill, and our intern, James Harris, UAB School of Medicine (Class of 2023) for helping make this podcast series possible.
Episode Notes
00:04:00 – Growing up in New York, North Carolina & Ohio
00:07:09 – Playing sports as a youth
00:08:13 – Chemical engineering & baseball at NC State
00:10:05 – Influences that led to a career in orthopaedic surgery
00:13:00 – Sports medicine mentors: Dr. John Feagin, Dr. Russell Warren, Dr. James Andrews & Dr. Bill Clancy
00:15:20 – Orthopaedic leaders: what sets them apart?
00:19:36 – Experience with Coach Jim Valvano
00:23:55 – Andrews Sports Medicine fellowship
00:27:30 – Early years at Andrews Sports Medicine
00:29:30 – HealthSouth (March 18, 2003)
00:32:00 – Transition to Andrews Sports Medicine at St. Vincent's Birmingham
00:36:38 – COVID-19 pandemic
00:41:15 – NCAA eligibility & injury of risk (pandemic)
00:52:10 – UCL Repair with internal brace
00:55:49 – First UCL patient
00:58:50 – Explanation of UCL Repair
01:03:24 – First MLB Player, Seth Maniss - Dr. George Paletta
01:05:10 – Revision with UCL
01:07:00 – UCL injury epidemic
01:09:00 – Throwing adaptations
01:10:00 – Pitch count rules
01:11:15 – Philosophy of sports medicine surgery
01:12:40 – Definition of sports medicine: "shared urgency of the patient"
01:17:00 – Advice for throwers
01:20:15 – WWE: Dave Batista, The Undertaker, Triple H, Finn Balor
01:32:22 – Worst sports injury
01:31:40 – Patient expectations
01:33:30 – Finding a surgeon
01:43:10 – Role as a fellowship director
01:46:00 – Learning from managing fellows
01:50:07 – Dread River Distillery
02:04:35 – Steps to become a sports medicine surgeon: medical school, residency & fellowship